Wingnut vs. Wingnut over WWIII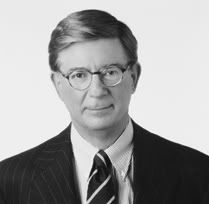 George Will, that starched collar of a man, writes an article that will be coming out tomorrow in the
Washington Post
. In it, he shits all over William Kristol and Condi Rice for their attempts to jibe us into war against Iran.
http://www.thewashingtonnote.com/archives/001542.php
Here's the article (registration required).
Transformation's Toll is the title and it says it all, to me. Call it code. Transformation was the idea that started all of this. Transformation is why
PNAC
exists, it's why we invaded Iraq so quickly after 9/11 instead of later (some say it's why 9/11 -
The New Pearl Harbor
- happened in the first place). It's why we are still in Iraq (besides the
oil timeline
). We're still testing and experimenting and engineering transformation. Sure we can take over an impoverished 3rd world country with 100,000 troops and stealth bombers and satellite networks, but can we also take out one guy with an RPG sitting under a bridge? Can we use a lean, mobile, networked force to do urban seek and destroy? This is important in the New World Order.
I think many who have been disturbed for the past 4-5 years, wondering where this country is headed, may start to feel some relief. Conservatives will start dissenting from all the war cheerleading comeing from the neocons (as George Will rightly labels them - radicals. They really should be called neolibs, but that's another story.) As you may know, many paleoconservatives, like William Buckley, started to poo poo the Iraq war (well after it was obvious that it wasn't working out, despite its immorality) and now some of these guys are also poo pooing the Fox News cheerleading section clamoring for more war war war! Thank the Mighty FSM.
There are many bits of ridiculousness in the piece though. Well, it wouldn't be George Will if not, would it? Referring to
The Weekly Standard
: "One envies that publication's powers of prophecy but wishes it had exercised them on the nation's behalf before all of the surprises -- all of them unpleasant -- that Iraq has inflicted." Ah, yes, prophecy, like Iraqis welcoming us with flowers instead of bombs and bullets.
Let's see if the paleocons team up with the liberals against the neocons.
Grab some popcorn.